Our Restaurant was designed by Kimlim architects from St. Gallen, Switzerland, in 2012. The design was based on the reversing of the traditional Korean madang. Clear colors und straight functionality create a relaxed ambience to enjoy. The composed design won the architects award 2014.
---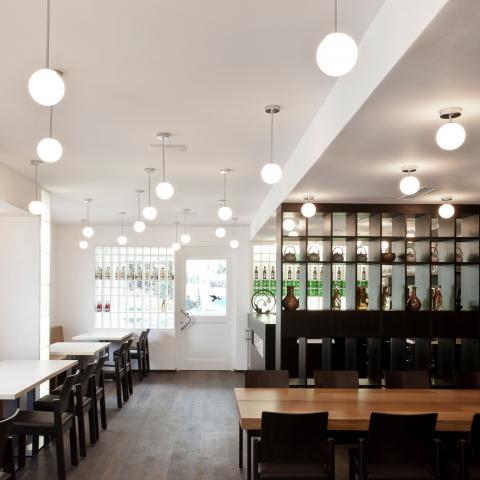 Stars brought down into our house
Just as the stars glimmer above the Madang, so has Eunho Kim suspended stars above the Madang in the Okims. Countless small lights that light up the room symbolize our patrons which make the Okims what it's supposed to be: A place of meeting.
The Center Is the Pyonsang.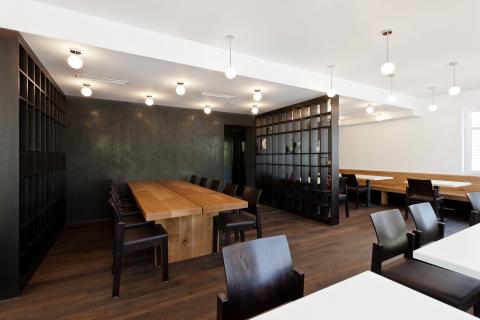 The table for larger gatherings
In the center of the room is the massive wooden table, which symbolizes the Pyonsang. This is the place to talk, to discuss, to have fun and of course to eat.
The Madang as a Principle.
The Madang is the Korean courtyard of several apartments, the center of social exchange. Architect Eunho Kim has turned the Madang upside down for the Okims: the "Toetmaru", the transition from the apartments to the courtyard, is symbolized by the massive wooden bench that looks out onto the room of conviviality.
The restaurant's name goes back to Gernot Mueller's exclamation "Oh Kim!", mostly followed by the postscript: "That was really tasty", because at home Kim Sung Suk serves Korean delicacies.
Please make a reservation
As our restaurant cannot always accommodate all guests, we ask for your rightful reservation, at lunchtime as well as for dinner. You can reserve your table up to 60 days in advance, which gives us enough time to accommodate all of your wishes.
Always the full selection
In the Okims you can always choose from the entire menu. Our recommendation is a table grill on which multiple people can cook meat, vegetables, noodles and rice in a savory broth on the open flame. This way the evening becomes even more social.
Panorama: i360.tv
Architecture: Marcel A. Mayer